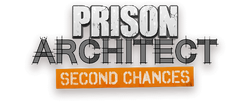 Teaching wardens since 2012.
 Information
Prison Architect
is the fifth game installment produced by
Introversion Software
and is a strategic prison simulation where the player can design and manage their own prison facility. The game is currently in its
released
state, now receives infrequent updates from its developers.
Prison Architect
is now being developed by
Double Eleven
and published by
Paradox Interactive.
Prison Architect is also available on several platforms including: Xbox One, PlayStation 4, Nintendo Switch and iOS/Android Tablets. Latest DLC is Second Chances.
 Numbers
Number of articles: 577
Number of files: 1,456
Number of active editors: 8
Number of edits: 40,731
Community content is available under
CC-BY-SA
unless otherwise noted.