About Prison Architect
Prison Architect is the fifth game installment produced by Introversion Software and is a strategic prison simulation where the player can design and manage their own prison facility. The game is currently in its released state after going through 36 alpha builds. The fifth installment now receives infrequent updates from its developers. Prison Architect is now being developed and published by Paradox Interactive, a Swedish video game publisher based in Stockholm.
Prison Architect is also available on several platforms including: Xbox One, PlayStation 4, Nintendo Switch and iOS/Android Tablets.
Current Version
"The Clink"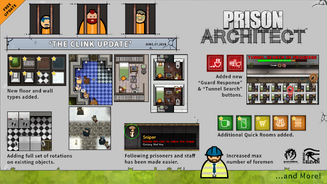 About the Wiki
This wiki page acts as a central source for information regarding all the elements that make up Prison Architect. All users with accounts are welcome to contribute to our articles and pages - we are an ever-growing wiki! Please review and adhere to the wiki rules outlined here.
NOTE: Many of the images and files that appear on our wikipedia are copyrighted. Some are legally borrowed from other wikia sites. Files, including the wikia background, will always be used in a way that qualifies as fair use under US copyright law.
Prison Architect has got some new Wardens in town! Paradox Interactive and Double Eleven have released "The Clink" update which entails brand spanking new features and better quality gameplay to PC and console editions of Prison Architect.

Announcements

NOTE: Smaller announcements are removed after seven days.

[09/07/19] - In light of the new update, some new pages are coming to the wiki!
[23/10/18] - Join us on our DISCORD server, something slightly more advanced than a standard wiki live chat. If you'd like to join in on the fun, please click here.

---

Visit The Forums • Download The Latest Builds •

---

To write a new article, just enter the title in the box below.

Statistics & Information

Our pages have been edited 33,649 times.
We have 19,290,902 registered users and 6 active users.

If you want to contribute to this wiki, try:

Adding information to pages marked as a stub.
Or by simply helping with spelling & grammatical errors.
Community content is available under
CC-BY-SA
unless otherwise noted.