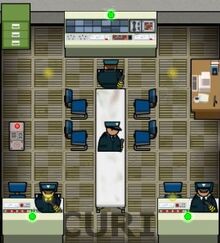 Security rooms are offices where your guards will reside when not conducting duties.
These rooms are great for housing surveillance equipment such as CCTV Monitors, Door Control Systems and Phone Taps. These are unlocked by the Chief.
The main purpose of the security room is to provide a secure area where Confidential Informants can relay covert information gathered around the facility to your prison's security team. All of your confidential informants will be escorted by a guard to this room. Whilst a CI is inside, they will provide you with information regarding: contraband and hidden prisoner reputations. This information can be viewed via the Intelligence overlay.
It is wise to designate the security room as a staff-only area. This is because several forms of contraband including: jail keys can be stolen and used to escape from the facility.
Prison guards are considered a 'gang' within their own right. If Gangs is enabled, security rooms will project 'guard territory power' to neighbouring/adjacent yards & common rooms.
Tips & TricksEdit
If the room is dedicated to CCTV Monitors, they must be placed so that a guard can stand in the front middle square for the CCTV Monitor to function. Sides of the monitors may overlap. But each monitor requires 1 guard and 1 space directly in front of it.
It is wise to position security rooms in close proximity to staff rooms, so that guards can quickly resume security office duties after resting.
Confidential Informants are not shackled whilst in your security office, so they may use their stay there as an opportunity to steal contraband. Ensure you search them after they leave.
During riot situations, prisoners may attempt to breach security rooms to gain access to the door controls. It is advised to safeguard such technology with a solitary/remote door, and have guards in and around your security offices.
RequirementsEdit
Available Contraband Edit
The security room is a source for the following forms of contraband:
Baton (Weapons)
Cigs (Narcotics, Luxuries, Smelly)
Jail Keys (Metal)
Lighter (Luxuries)