The Sandman Will Keep You Awake - The Loop
Play Sound
This article or section contains information that is out-of-date.

Please replace the old information with up to date information.
This may include rewriting sections to ensure they are clear and concise.
The Upper Bar is a comfortable and useful tool used to know lots of information about the actual situation of your prison, which you can find out by  just hovering the mouse on one of the 6 resumed Reports.
Clicking on a section you'll open the concerning Report Tab to know other more and modify something.
Resumed Reports

[

]
Danger

[

]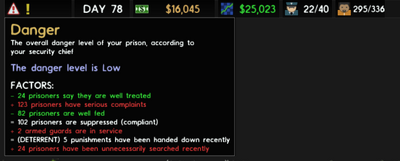 It's the Report of the Chief of Security. You always can see what's the level of danger and if is increasing or decreasing.
Passing the mouse on, the Chief tell you 8 facts:
Clicking on: opens the Policy Tab
Day

[

]

It shows how many days you've run your prison.
By the mouse on: (since Alpha 23) it exactly shows hrs: mins: secs.
Bank Account
It's a Report of the Accountant by which you can quickly check how much money you actually have to spend.
Clicking on: open the Grants Tab.
Daily Cashflow

[

]

It's another Report of the Accountant that tells how many $ you gain every day.
By the mouse on:
how much comes inwards your Bank Account each day;

how much goes outwards each day, only for the expenses of management.

For a detailed list:
Clicking on: open the Finance Tab.

It allows you to know how many Guards are available (not stationing and not patrolling) and the total of normal Guards.
By the mouse on:
Clicking on: open the Staff Tab.

This section shows how many Prisoners you hold and how many functioning Cells you have (Maximum safe capacity).
By the mouse on:
Clicking on: open the Prisoners Tab.